Marvell USB Driver is a small application for Windows computers, which allows you to install the Marvell Drivers on the Windows computer.
Here on this page, we have shared the latest version of Marvell Drivers and the previous versions.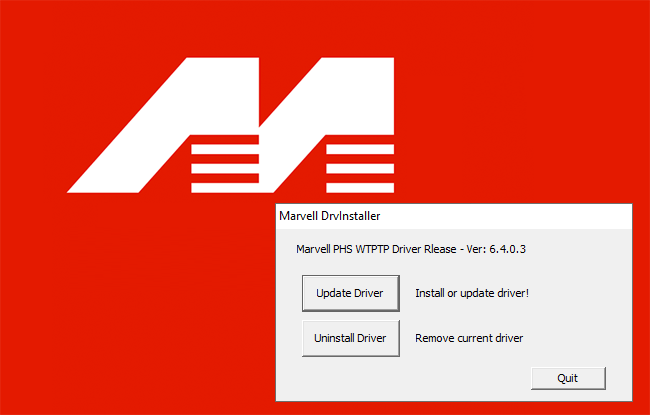 Features of Marvell USB Driver
Installer:
It comes as an installer application, which means you can easily install the Marvell drivers using the setup window. Download and extract the driver package on the computer and run the DrvInstaller.exe to launch the setup window.
For Windows:
It comes in support of the Windows Computer (x32 or x64 bit computer). The Marvell Drivers can be installed on Windows Vista, Windows 7, Windows 8, 8.1, and Windows 10 using the Setup Window. Windows XP users might have to install the drivers manually through the device manager.
Supports Marvell Chipset:
It supports the devices running on the marvel chipset, whether it's a Smartphone or tablet. Once the Marvell drivers are installed on the computer, it can easily detect the connected device and get ready to use it.
Supports Marvell Tool:
It supports the Marvell Flash Tool and Marvell Write Tool (IMEI). It can be very useful during the firmware flashing process or IMEI Write process on the Marvell Devices.
Notes
[*] How to Install: If you want to learn to install the Marvell Driver, then head over to the How to install Marvell Driver page.
[*] Marvell Flash Tool: If you are looking for the flash tool to flash or install stock firmware on Marvell Devices, then head over to the Marvell SWUpgrade P Tool, Marvell SWUpgrade C Tool, Ontim Marvell MultiDL page.
[*] Marvell Write Tool: If you are looking for IMEI Tool to Write IMEI on Marvell devices, head over to the Download Marvell Write Tool page.
[*] Credits: Marvell Driver is created and distributed by ShenZhen Hipad Telecom. So, full credit goes to them for sharing the tool for free.