Marvell Write Tools is a small application for Windows Computer that allows you to Write or Flash IMEI on devices powered by Marvell Chipset.
Here on this page, we have shared Marvell Write Tools' latest version and the previous versions.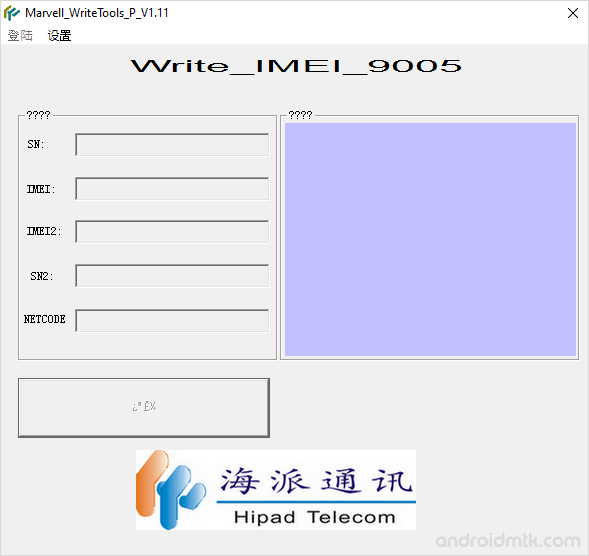 Features of Marvell Write Tools
Portable Application:
It comes as a portable application, so you don't have to install the Marvell Tool on the computer to use it. Instead, download and extract the tool on the computer and open the Marvell_WriteTools_P.exe file to launch the application.
Write IMEI:
It helps you to flash or write IMEI on Marvell devices. To Write or Flash IMEI, install the Marvell Driver > Launch the Tool > Click on the Menu > Enter the Password > Click on the Settings > Enter the IMEI and Click on the Write button.
Supports Marvell Devices:
It comes in support of the devices running/powered by Marvell Chipset. Once you have installed the correct Marvell drivers on the computer, Marvell Tool can easily detect the connected device and get ready to Write or flash the IMEI on the mobile device.
Other Features:
It also allows you to Write or Flash the WiFi Address, Bluetooth Address, Serial Number (SN1 and SN2) on the device. It supports Marvell devices having LTE, GSM, WCDMA, or TD.
Notes
[*] How to Use: If you want to learn to use the tool to flash or Write IMEI on the devices powered by Marvell Chipset, then head over to How to use Marvell Write Tools page.
[*] Caution: Flashing IMEI other than the Original is Illegal in many countries and may cause serious trouble to you.
[*] What's the current IMEI Number? To know the current IMEI number of your device, Dial *#06# on the device. You can also see the IMEI number written on your device's back sticker (you can see the label after removing the battery).
[*] Credits: Marvell Tools is created and distributed by ShenZhen Hipad Telecom. So, full credit goes to them for sharing the tool for free.