WriteCode IMEI Tool is a small application for Windows Computer that allows you to flash IMEI on Mediatek Devices, including smartphones and Feature Phone.
Here on this page, we have shared the latest version of the WriteCode IMEI Tool and the previous versions.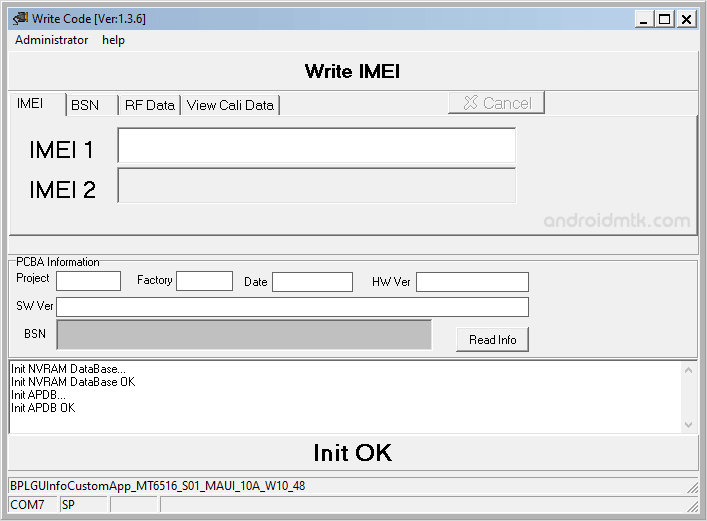 Features of WriteCode Tool
Portable Application:
It comes as a portable application, so you don't have to install it on your computer to use it. Instead, download the WriteCode IMEI Tool on the computer > Extract the .zip package > Open WriteCode.exe to launch the tool.
Supports Mediatek Devices:
It allows you to Write or Flash IMEI on the Mediatek Devices, including smartphones and FeaturePhone, in a few Clicks. It also allows you to flash Dual IMEI on the Same device (having a Dual Sim facility).
Write IMEI Without Database Files:
This is the best feature of this tool, as it doesn't require you to have the Database files (AP DB). Instead, it is inbuilt with the AP DB files so that you can flash IMEI on the Mediatek Device without the need for any database files.
Other Features:
Beside Writing the IMEI on the device, it also allows you to Write a BSN Database, RF Database, and Read the Calibre Database of your Mediatek device.
Download WriteCode Tool
WriteCode is compatible with all versions of Windows OS, including Windows XP to Windows 11 (x32 or x64 bit). If in case you were looking for the latest version of the WriteCode, then use the following links to get it on the computer:
v1.3.6: WriteCode_L1052_V1.3.6.zip
Notes
[*] Supports only Mediatek Chipsets: WriteCode only allows you to Write IMEI on the devices powered by Mediatek Chipset.
[*] Caution: Flashing IMEI other than the Original IMEI is Illegal in many countries and may cause serious trouble to you.
[*] What's the current IMEI Number? To know the current IMEI number of your device, Dial *#06# on the device. You can also see the IMEI number written on your device's back sticker (you can see the label after removing the battery).
[*] Alternative Tool: SN Write Tool, Read&Write Tool and MTK IMEI Tool are the best alternative to WriteCode IMEI Tool.
[*] Credits: WriteCode tool is created and distributed by AGold Communication (Shanghai) Co.,Ltd. So, full credit goes to them for sharing the tool for free.