Factory Tool WingTech is a small application for Windows Computer that allows you to Flash the IMEI on Qualcomm smartphones and Tablets.
We have shared the latest version of Factory Tool WingTech and the previous versions on this page.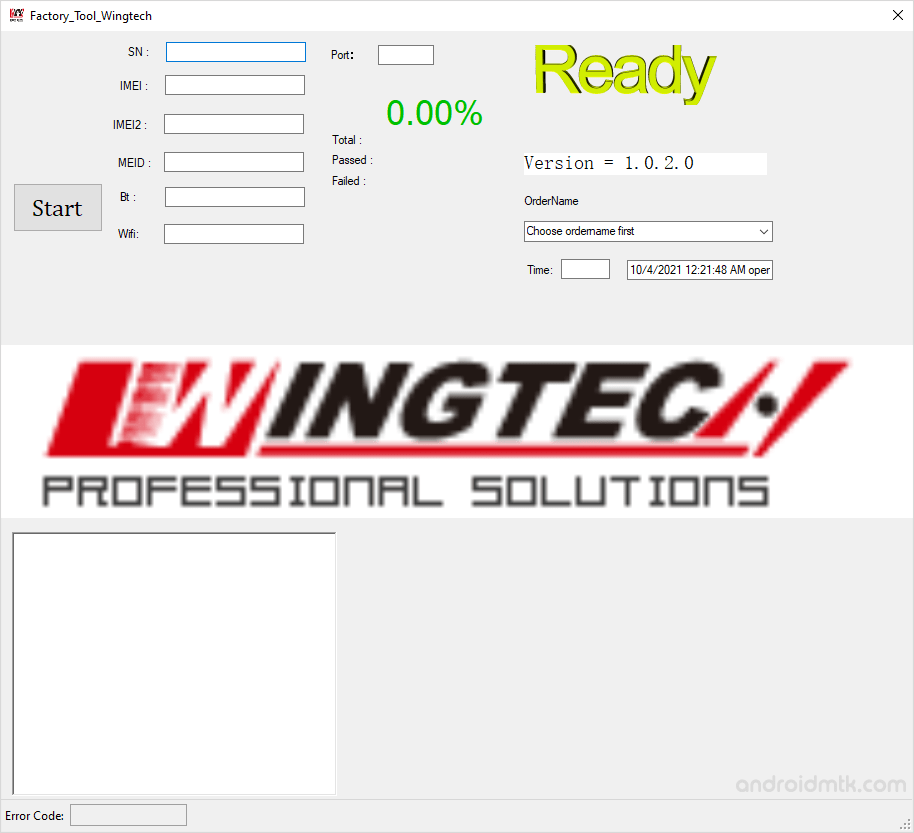 Features of Factory Tool WingTech
Portable Application:
It comes as a Portable Application, which means you don't have to install it on the computer to use it. Instead, download and extract the package on your computer, and you are ready to use it in no time.
Easy Interface:
The overall interface is immaculate and comes with all the features. For example, it allows you to Write the SN Number, IMEI1, IMEI2, MEID, Bluetooth, and WiFi number.
Flash IMEI:
It allows you to Flash the IMEI on Qualcomm smartphones and Tablets. It supports the Flashing of Dual IMEI at the same time. You can easily use the tool to flash Dual SIM Card-based Qualcomm smartphones and Tablets.
Other Options:
It also allows you to select the Port number by entering the Port ID, Choose OrderName, Order Time, and Order Date. It also displays the Total Write Success, Passed, and failed Write. Finally, it also displays the Error code at the bottom of the tool.
Download Factory Tool WingTech
Factory Tool is compatible with all versions of Windows OS, including Windows XP to Windows 11 (x32 or x64 bit). If in case you were looking for the latest version of the Factory Tool, then use the following links to get it on your computer:
v1.0.2: FactoryTool_Wingtech_v1.0.2.zip
Notes
[*] Compatibility: It is compatible with Windows XP, Windows Vista, Windows 7, Windows 8, Windows 8.1 and Windows 10 (x32 or x64 bit computer).
[*] How to Use: If you want to learn how to use Factory Tool to flash IMEI, then head over to the How to Flash IMEI using WingTech Tool page.
[*] Caution: Take a backup of your data before flashing the IMEI using the Factory Tool. As your data will be deleted after flashing or writing the IMEI number.
[*] Alternative Tool: Qualcomm Smartphone Write IMEI Tool and Read&Write IMEI Tool are the best alternative to Factory Tool.
[*] Credits: Factory Tool is created and distributed by WingTech Inc. So, full credit goes to them for sharing the tool for free.