Qualcomm Smartphone Write IMEI Tool by Uniscope is a small application for Windows Computer that allows you to flash IMEI on any Qualcomm Based smartphone and Tablet.
Here on this page, we have shared the latest version of the Qualcomm Smartphone Write IMEI Tool and the previous versions.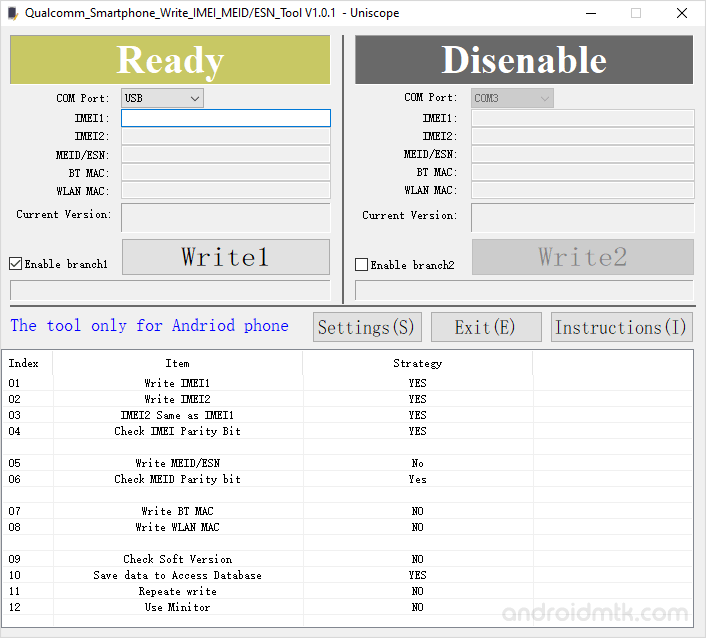 Features of Qualcomm Smartphone Write IMEI Tool
Portable Application:
It is a small portable application which doesn't need to be installed on the computer before using it. Instead, launch the application, enter the IMEI, and you are ready to write it on your Qualcomm Device.
Supports:
You can use it on Android devices powered by Qualcomm Chipset. It supports Qualcomm MSM8916, MSM8909, MSM8939, MSM8209, and MSM8592 platforms to write IMEI, MEID or ESN, Bluetooth Address, and WLAN Address.
Write Multiple IMEI:
It also allows you to write IMEI on Qualcomm devices having Dual SIM. In which Write IMEI1 is used to write IMEI on main card and Write IMEI2 is used to write IMEI on sub card.
Write MEID:
It allows you to write IMEI MEID or ESN on the Qualcomm device. This function only works when your device has the CDMA function, and if your device doesn't have the CDMA function, it should not be selected.
Download Qualcomm Smartphone Write IMEI Tool
Qualcomm Write IMEI Tool is compatible with all versions of Windows OS, including Windows XP to Windows 11 (x32 or x64 bit). If in case you were looking for the latest version of the Qualcomm Write IMEI Tool, then use the following links to get it on your computer:
Notes
[*] How to Use: If you want to learn to use Qualcomm Write IMEI Tool to flash or write IMEI, then head over to How to use Uniscope Qualcomm Write IMEI Tool page.
[*] Password for Settings: While Opening the Settings, you will be asked to enter the Password, and The default password is ustest.
[*] It allows you to Write IMEI and MEID on two mobile devices simultaneously but only allows one branch to select the USB port, not two.
[*] Caution: Writing IMEI other than the original one is illegal in many countries. And it may cause serious trouble to you. So, beware not to do the same.
[*] Credits: Write IMEI Tool is created and distributed by Uniscope Inc. So, full credit goes to them for sharing the application for free.