DFU Flash Tool is a small utility that allows you to flash or install stock firmware on any Broadcom Smartphone and tablet.
Here on this page, we have shared the official DFU Tool, which allows you to perform multiple tasks on the Broadcom Devices.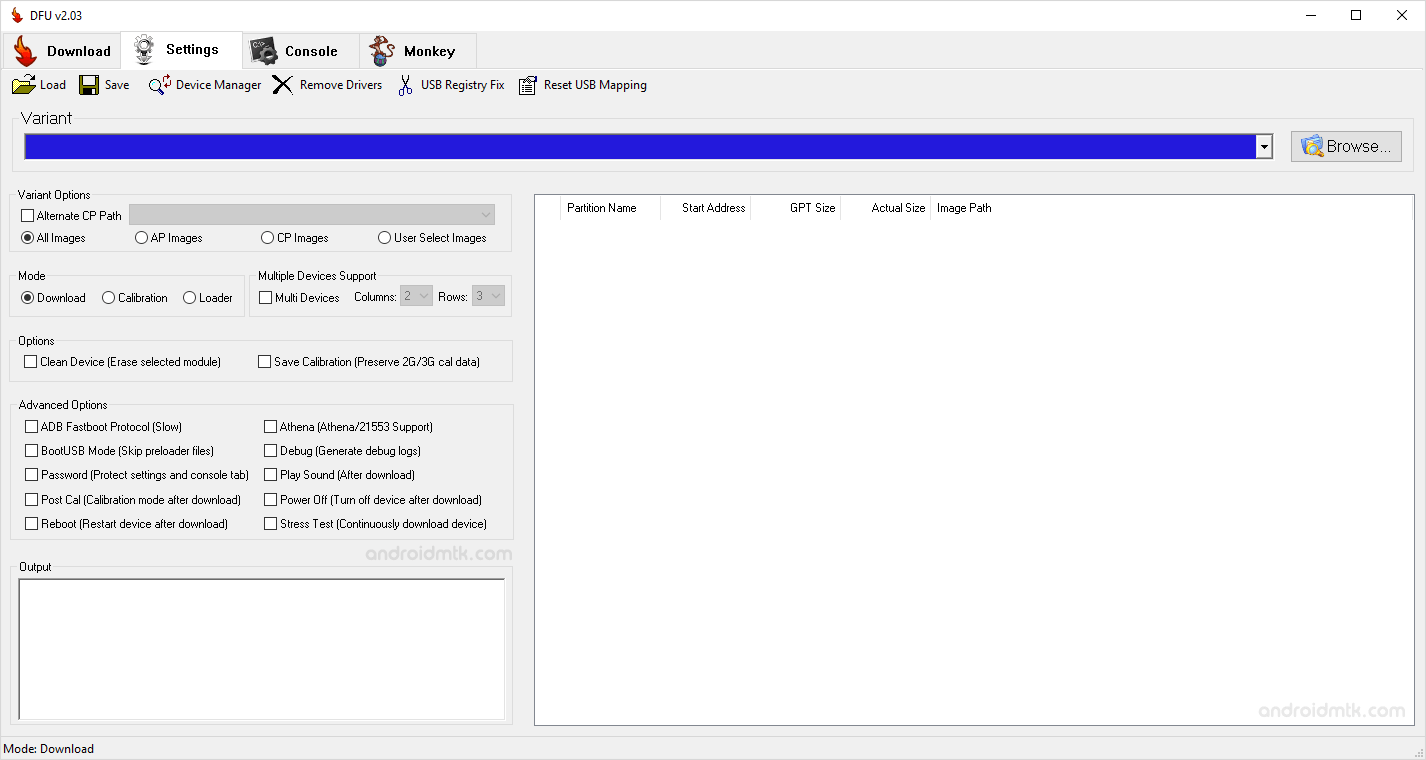 Features of DFU Flash Tool
Portable Application:
It comes as a portable application, which means you can use it without installing it on the computer. Instead, download the Tool, extract it on your computer, and click on dfu.exe to launch it.
Multiple Mode:
It supports multiple modes to flash or install the stock firmware on your Broadcom Device, including Simple Download Mode, Calibration Mode, and Loader Mode.
Multiple Device Support:
It allows you to flash or install stock firmware on Multiple Broadcom Devices simultaneously. To Use: Tick the Multiple Devices and Select the Number of devices using Columns and Rows.
Advanced Options:
It came with advanced features that include ADB Fastboot Protocol, Boot USB Mode, Password Protection to protect settings and console tab, Calibration Mode after Download, Restarting device after flashing, Athena/21553 support, Generate Debug logs, Play sound after flashing, Turn off the device and Stress Test.
Download DFU Flash Tool
DFU Tool is compatible with all versions of Windows OS, including Windows XP to Windows 11 (x32 or x64 bit). If in case you were looking for the latest version of the tool, then use the following links to get it on the computer:
v2.01: DFU_Flash_Tool_v2.01.zip
v2.03: DFU_Flash_Tool_v2.03.zip
Notes
[*] How to use: If you want to learn to use DFU Tool to flash or install firmware (ROM) on Broadcom Devices, then head over to How to use DFU Tool page.
[*] Download Broadcom Driver: DFU Tool works perfectly with the official Broadcom USB Driver, which can be downloaded from here.
[*] Alternative Tool: Broadcom MultiDownloader is the best alternative to DFU Tool, which allows you flash or install stock firmware on the Broadcom Devices.
[*] Credits: DFU Flash Tool is created and distributed by Broadcom INC. So, full credit goes to them for sharing the Tool for free.