Amlogic Burn Card Maker is a windows application primarily used to create bootable firmware images on an SD Card for Amlogic-powered devices. The SD Card is then used to install the firmware on the device powered by the Amlogic chipset.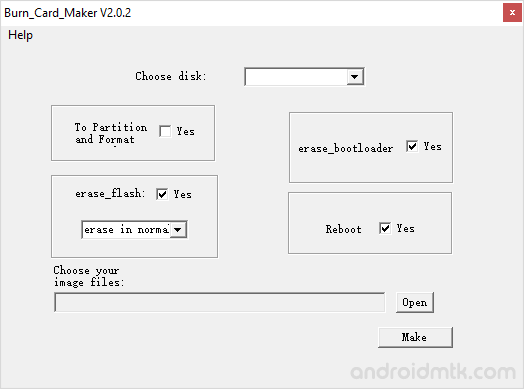 Features of Amlogic Burn Card Maker
Portable Application:
It comes as a portable application which means you don't have to install the tool on the computer to use it. Download and extract the Application on the computer > Open Burn_Card_Maker.exe to Launch the Application.
Flash Firmware:
It allows you to flash or install the Stock Firmware (ROM) on the devices powered by Almogic Chipset. All you need to have is the correct firmware (ROM) of your Amlogic Device > Install the Amlogic Driver > Launch the Tool > Load the Amlogic Firmware > Choose the SD Card > Click on Make.
Support Amlogic Devices:
It comes in support of the devices powered by Amlogic Chipset. Once you have burned the correct Amlogic Firmware on the SD Card, you need to connect the SD Card to the Amlogic Device > Boot the Device into the Download Mode and Flash the Firmware.
Support .img Firmware:
It supports flashing or installing .img based stock firmware on the devices powered by Amlogic Chipset. You can easily find the .img file in the Stock Firmware of your Amlogic Device released by the manufacturer.
Download Amlogic Burn Card Maker Tool
Amlogic Card Maker Tool is compatible with all versions of Windows OS, including Windows XP to Windows 11 (x32 or x64 bit). If in case you were looking for the latest version of the Amlogic Card Maker Tool, then use the following links to get it on your computer:
v1.0.0: Amlogic_Burn_Card_Maker_v1.0.0.zip
v2.0.2: Amlogic_Burn_Card_Maker_v2.0.2.zip – Latest
Notes
[*] How-to Use: If you want to learn to use the Amlogic Burn Maker Tool to Write/Burn Firmware on SD Card, then head over to How-to use Amlogic Burn Card Maker Tool Page.
[*] Alternate Tool: Amlogic USB Burning Tool and Amlogic Flash Tool are the best alternative tools that allow you to flash or install firmware on devices powered by Amlogic Devices.
[*] Amlogic USB Driver: If you are looking for the Original Amlogic USB Driver, then head over to the Download Amlogic USB Driver page.
[*] Credits: Amlogic Card Maker is created and distributed by Amlogic, Inc. So, full credit goes to them for sharing the Application for free.