xFSTK Downloader Tool is a small utility primarily used to flash or install Stock Firmware (ROM) on Android Devices compatible with the Intel SoC platforms.
Here on this page, we have shared the latest version of the xFSTK Tool along with the previous versions.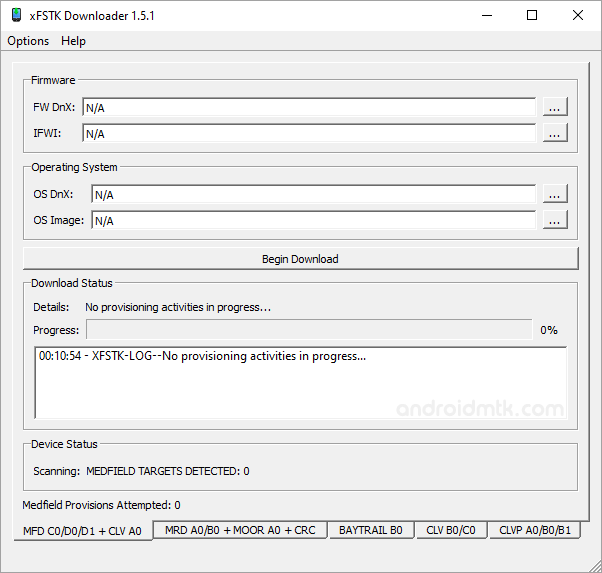 Features of xFSTK Downloader Tool
Installer:
It comes as an installer application, which means you have to install the Application on the computer to use it. Download and extract the Tool on the Computer, then Open xFSTK Downloader.exe to Launch the Setup window.
GUI:
It provides automatic target detection, loadable and executable module specifications, firmware and OS image specifications, and firmware and OS loading to devices compatible with the Intel SoC platforms.
Command Line:
It provides a simple scripting interface for downloading/flashing firmware and OS. Some of the basic commands are: Download Firmware, Wipe Out IFWI On eMMC, Dump IDRQ Payload, Dump Key Hash, Perform Key Hash Verification and CSDB Provision.
API:
It provides an interface that allows you to develop custom tools to perform firmware/os downloads/installation. Single-target and multi-target support is built into the library. Multi-target provisioning can be either single-threaded or multithreaded.
Notes
[*] How to Use: If you want to learn to use the tool to flash/install the stock firmware (ROM), then head over to How to use xFSTK Tool page.
[*] Known Issue: The latest version of xFSTK Tool, i.e., v1.7.0 doesn't seem to be working properly. Therefore, we recommend you use any other version between v1.3.6 to v1.5.1.
[*] Compatible Driver: xFSTK Tool works perfectly with iSoc and Intel USB Driver. You should install the drivers first in order to run the application successfully.
[*] Credits: xFSTK Downloader is created and distributed by Intel Corporation. So, full credit goes to them for sharing the tool for free.