WearOS Tools is an all-in-one Windows-based utility for managing and optimizing Wear OS watches. It enables users to perform various tasks, such as installing and uninstalling apps, changing ringtone and font sizes, taking screenshots, and more, all in one place.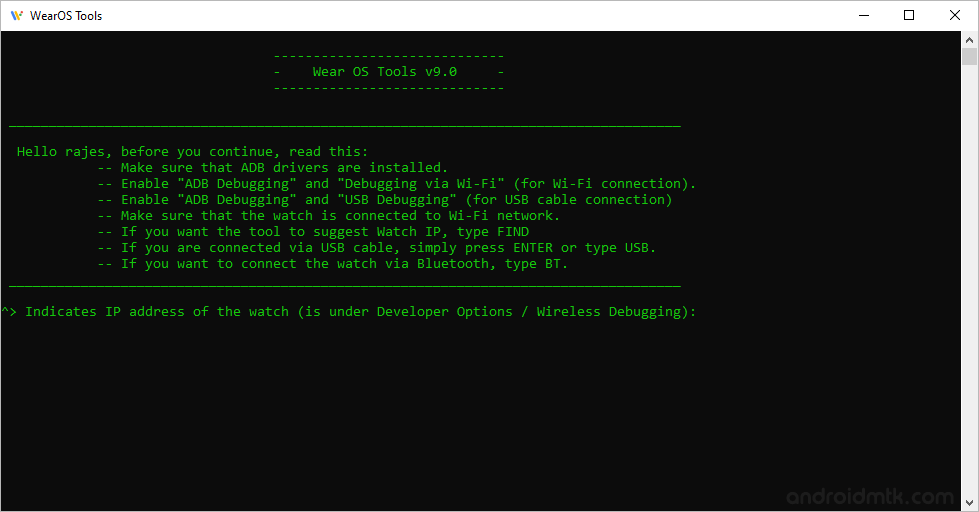 Features of WearOS Tools
The WearOS Tool, filled with essential features, allows users to have more fun and easily personalize and control their smartwatches in various ways.
File Transfer
It allows users to send files like MP3s, images, and PDFs to their watch or download files from the watch, making media and document sharing between devices seamless and enhancing the functionality of their wearable device.
App Installation
It simplifies app installation by offering sideloading capabilities, enabling users to add new applications to their watch easily and expanding the range of applications they can use on their smartwatch.
Bulk App Installation
It supports bulk installation of apps, streamlining the process of simultaneously adding multiple applications to the watch, making it particularly useful when setting up a new watch or restoring after a reset.
App Uninstallation
It enables users to uninstall watch apps (debloat), helping them remove unwanted or unnecessary applications to free up storage and improve performance, optimizing their device's performance.
App Enable/Disable
It offers the option to enable or disable watch apps, giving users greater control over the apps running on their smartwatch, helping manage battery life or limiting distractions.
Backup/Restore Apps
It facilitates backing up and restoring installed apps, ensuring that users can recover their apps and data when necessary, protecting app data or transferring apps and settings to a new watch.
Legacy APK Conversion
It converts "legacy" APK files for phones into Wear OS APKs, making it easier for users to install apps from older sources, ensuring continued functionality and compatibility.
Bulk APK Conversion
It offers bulk conversion of APK files for Wear OS, enabling efficient conversion of multiple apps, streamlining the process and making it more convenient for users.
Customize Audio Alerts
It lets users change their watch's ringtone, notification sound, and alarm sound, allowing for the customization of audio alerts and ensuring a tailored user experience.
Mute Audio Alerts
It allows users to mute ringtones, notification sounds, and alarms, ensuring a distraction-free experience when needed and allowing them to focus on tasks or maintain a quiet environment.
Screen Density Adjustment
It allows users to change screen density, customize the watch's display for improved readability, and optimize the watch's display based on user preferences.
Font Size Adjustment
It enables users to change font size, making text on the watch easier to read and navigate, especially for users with visual impairments or who prefer larger text.
Computer Keyboard Input
It lets users type on their watch using a computer keyboard, simplifying text input and improving overall usability, mainly when composing lengthy messages or inputting text frequently.
Forced Bluetooth Pairing
It forces watch pairing with Bluetooth without resetting to factory defaults, making the process more efficient and convenient, saving users time and effort.
Synchronization Repair
It repairs synchronization issues in older watches, ensuring a smooth user experience with models like Moto 360 Gen 1 or Sony Smartwatch 3, maintaining functionality in older devices.
ADB Command Input
It offers ADB command input via the command line, giving advanced users more control over their watch and enabling in-depth customization and troubleshooting options.
Advanced Reboot Options
It enables advanced reboot options, such as Recovery Mode and Bootloader Mode, allowing users to troubleshoot and repair their smartwatch, ensuring optimal performance and stability.
Screenshot Capture
It allows users to take screenshots of their watch screen and send them directly to their PC, simplifying capturing and sharing watch display images and making documentation and communication easier.
Download WearOS Tools
Following are the Download links from which you can download the tool for Windows (32-bit or 64-bit).
Notes
[*] Connection: Wear OS watches can struggle with Wi-Fi stability, especially when connected to a phone via Bluetooth. To ensure a smooth connection with the tool, enable "Enable Wi-Fi automatically when charging" in Settings > Developer Options and connect the watch to a charger.
[*] Multiple Language: WearOS Tool comes in various languages, including English (EN), Spanish (ES), and German (DE), making it accessible to a wider audience.
[*] Android Platform Tools: If you are looking for the latest Android Platform Tools for Windows, Linux or Mac, then head over to Download Android Platform Tools page.
[*] Credits: WearOS Tools is created and distributed by Bernarbernuli (XDA Developer). So, full credit goes to him for sharing the Application for free.