SPRD Upgrade Tool allows users to flash or install .lod and .cfp firmware on devices running on Spreadtrum or UniSoc chipsets. Technicians and developers commonly use the tool to update or repair device firmware with these chipsets.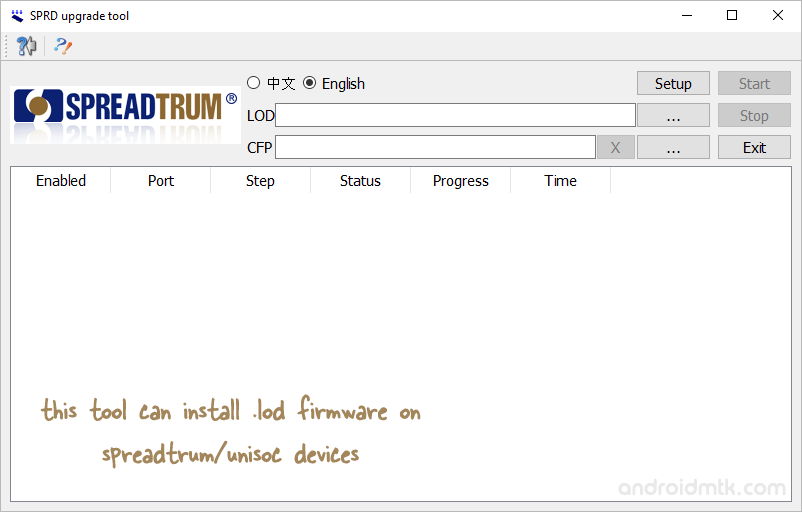 Features of SPRD Upgrade Tool
The SPRD Upgrade Tool has essential features that make updating firmware easy. Check out the main points below, which show how flexible, customizable, and user-friendly it is, making it great for experts and regular users.
Multiple Language Support
It offers Chinese and English support, which makes the tool easy for people who speak either language. This dual-language feature also expands the potential audience of the tool and enhances its accessibility for individuals and professionals alike.
Firmware Compatibility
It works with both .lod and .cfp firmware files. Users need to provide the main .lod file with the correct header information, and they can also add a .cfp file if they want. This makes the tool versatile for different firmware types.
Connection Options
It lets users connect through USB or COM ports to choose the best option for their setup. This allows flashing multiple phones simultaneously, but users need help mixing USB and COM connections in the same session.
Erase Function
It has an erase feature that removes all the data from the FLASH memory, including radio frequency calibration data. This ensures the device is clean before installing new firmware and prevents issues from leftover data.
Save Settings
It has a function that saves settings for faster and easier firmware upgrades. Users can also select the port, initialize factory data, and perform phase checks. This gives them better control and customization to suit their individual needs.
Download SPRD Upgrade Tool
Following are the Download links from which you can download the tool for Windows (32-bit or 64-bit).
| Version | Download |
| --- | --- |
| v12.00.01 | Link |
Notes
[*] How to Use: If you want to learn to use the SPRD Upgrade Tool to Flash Stock firmware, then head over to the How to use SPRD Upgrade Tool page.
[*] USB Driver: If you are looking for the original SPD/UniSoc USB Driver compatible with the tool, then head over to the SPD Driver page.
[*] Alternatives: If you are looking for an alternative .lod flash Tool, then head over to the RDA Product Line Tool page.
[*] Credits: SPRD Upgrade Tool is created and distributed by Spreadtrum Communications, Inc. So, full credit goes to them for sharing the Application for free.