Qualfast Tool is a small application for Windows Computer that allows you to flash or install stock firmware (ROM) on any Qualcomm Device (smartphone and tablets).
Here on this page, we have re-designed and shared the new version of the Qualfast Tool that supports Windows XP, Windows Vista, Windows 7, Windows 8, 8.1, and Windows 10.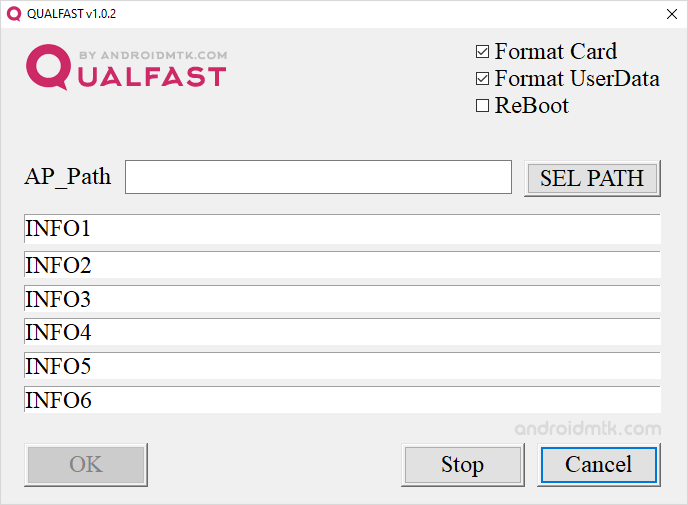 Features of Qualfast Tool
Portable Application:
Qualfast comes as a portable application, so you don't have to install it on the computer to use it. Instead, download and extract the Qualfast Tool on your computer> Open the Qualfast.exe file to launch the application.
Flash Firmware:
It allows you to flash or install firmware (ROM) on devices powered by Qualcomm Chipset. All you need to have the correct firmware (ROM) of your device > Launch the Qualfast Flash Tool > Load the firmware using the Sel Path button > Connect the device to the computer > Click on OK Button to begin the installation process (read guidelines).
Support Qualcomm Chipset:
It supports devices running on Qualcomm Chipset, whether a smartphone, feature phone, or tablet. After installing the Qualcomm Driver on the computer, the Qualfast application can easily detect the connected device and get ready to flash the firmware on the device.
Support .XML Format:
It supports flashing or installing XML-based Stock firmware (ROM) on the devices running on the Qualcomm Chipset. You can easily find the XML file in the Stock Firmware of your Qualcomm device.
Download Qualfast Tool
Qualfast is compatible with all versions of Windows OS, including Windows 7 to Windows 10 (x32 or x64 bit). If in case you were looking for the latest version of the Qualfast, then use the following links to get it on your computer:
v1.0.1: Qualfast_v1.0.1.zip
v1.0.2: Qualfast_v1.0.2.zip – Latest
Notes
[*] How to Use: If you want to learn to use Qualfast to Flash or install firmware on your Qualcomm Device, then head over to How to use Qualfast Tool page.
[*] Caution: Flashing or installing firmware using the Qualfast Tool will wipe the data from the device. Therefore, we recommend you backup your data before using the tool.
[*] Alternative Tool: We have also shared a list of tools that allows you to Flash or install firmware on Qualcomm Devices. You can check them all from our Qualcomm Tool Section.
[*] Credits: Qualfast is re-designed and developed by androidmtk.com Team. If you wish, you can share it on any website or forums with proper credits.