Qualcomm SW Downloader is a small application for Windows Computer that allows you to flash or install stock firmware on any Qualcomm Feature Phone, Smartphone, and Tablets.
Here on this page, we have shared the latest version of Qualcomm SW Downloader and the previous updates.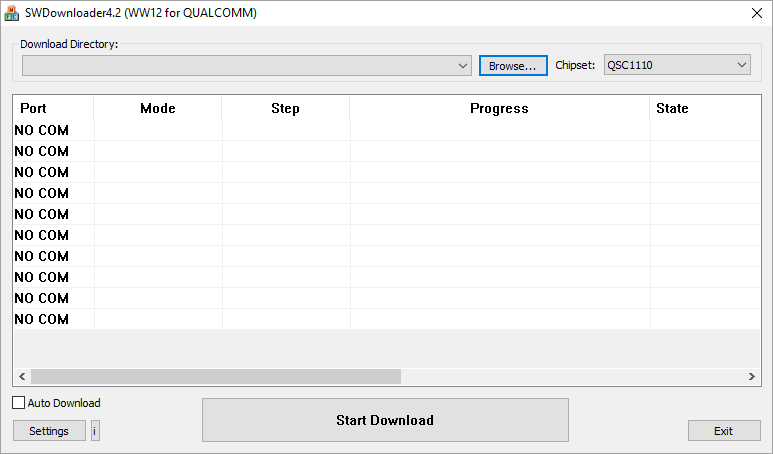 Features of Qualcomm SW Downloader
Support Multiple Chipset:
It supports multiple Qualcomm chipsets including QSC1110, QSC6240, QSC6270, MSM7225, MSM7227A, MSM7625, MSM7627A, MSM8225, MSM8625, MSM8225, MSM8625, MSM8225Q, MSM8625Q.
NAV Restore:
It allows you to restore multiple NAV files on your Qualcomm Feature phone, Smartphone and Tablet. Besides restoring, it also allows you to auto backup the NAV file on your feature phone, smartphones and tablets.
Select File to Flash:
There are options to select the exact file to flash in the Settings menu, including Android File, Boot File, System File, User Data File, Recovery file, and Cache file. If you are willing to flash the entire firmware, select all the available options or flash the recovery file by selecting the recovery option.
Other Features:
Other important features are Memory Dump, Enabling Logfile of the Flashing process, and flashing or restoring the EFS file (which stores meid number, IMEI number, serial number, and config settings).
Download Qualcomm SW Downloader
The Flash Tool is compatible with Windows OS versions, including Windows XP to Windows 11 (x32 or x64 bit). If in case you were looking for the latest version of the tool, then you can use the following links to download it on your computer:
v3.0: Qualcomm_SW_Downloader_3.0.zip
Notes
[*] Compatibility: It is compatible with Windows XP, Windows Vista, Windows 7, Windows 8, Windows 8.1, and Windows 10 (x86 or x32 bit).
[*] How to Use: If you want to learn How to Operate Qualcomm SW Downloader then follow How to use Qualcomm SW Downloader tool.
[*] Alternative Tool: We have shared a bunch of tools that also allow you to flash or install stock firmware on Qualcomm Devices. You can check them all from our Qualcomm Tool section.
[*] Credits: Qualcomm Downloader is created and distributed by WaterWorld D12. So, full credit goes to them for sharing the application for free.