Pandora Tool is a small application for Windows Computer, that allows you to adjust the phone's RF parameters on the devices powered by Spreadtrum/UniSoc Chipset. It supports two modes to connect the phone, i.e., Calibration Mode and Normal Mode.
Here on this page, we have shared the latest version of the Pandora Tool and the previous versions.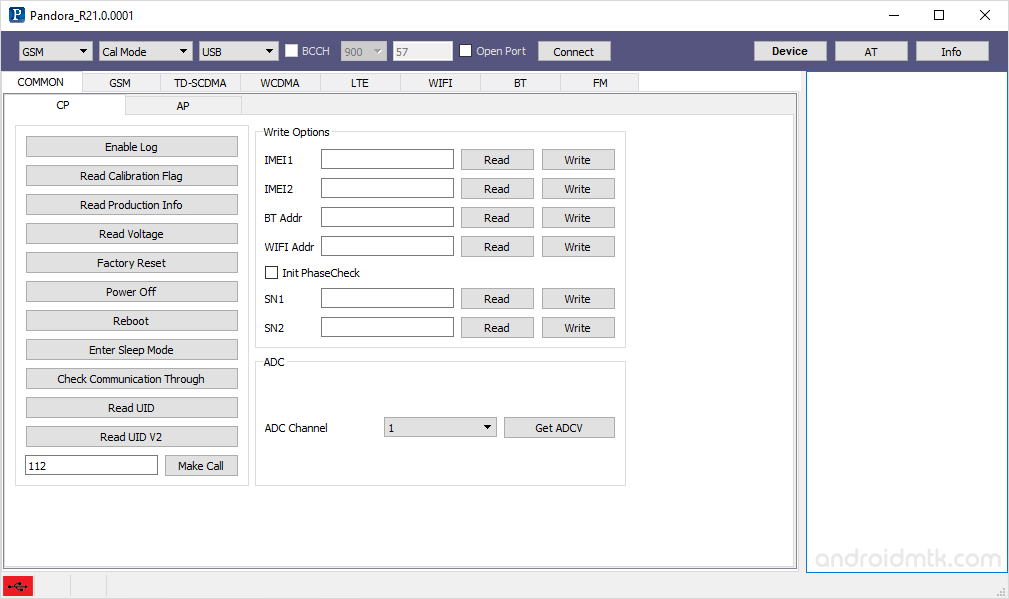 Features of Pandora Tool
Portable Application:
It comes as a portable application, which means you don't have to install the Pandora Application on your computer to use it. Instead, download and extract the package on your computer, and you are ready to use it.
Supports Multiple Modes:
It supports Multiple Modes, including the Calibration Mode and Normal Mode. The Calibration Mode allows you to calibrate the Spreadtrum/UniSoc device from the PC, where V-BUS is disconnected first and then turned on the device for the test. To use the Normal Mode, turn on the device and connect it to the computer for the test.
DUT Interface:
The DUT interface comes with multiple options, including the Chipset Type, Mode Options, Port Type, Auto Read standard information of the device, and connect button.
Complete Information:
It allows you to get the connected device's complete information, including the baseband Chip, IMEI1 and IMEI2 number, SN1 and SN2 Address, Bluetooth Address, WiFI Address.
Download Pandora Tool
Pandora Application is compatible with all versions of Windows OS, including Windows XP to Windows 11 (x32 or x64 bit). If in case you were searching for the latest version, then use any of the following links to get the tool on your computer:
R17.0.0001: Pandora_R17.0.0001.zip
R21.0.0001: Pandora_R21.0.0001.zip
R22.20.1701: Pandora_R22.20.1701.zip
Notes
[*] Compatibility: It is compatible with Windows XP, Windows Vista, Windows 7, Windows 8, Windows 8.1 and Windows 10 (x32 or x64 bit computer).
[*] How to use Pandora Tool: If you want to learn to use Pandora Application to Calibrate your Spreadtrum/UniSoc Device, then head over to the How to use Pandora Tool page.
[*] Caution: Take a backup of your data before calibrating your Spreadtrum/UniSoc device with the Pandora Application. While calibrating the device, your data might be deleted permanently.
[*] Credits: Pandora Tool is created and distributed by Spreadtrum/UniSoc Inc. So, full credit goes to them for sharing the tool for free.