Huiye Download Tool is a small application for Windows Computer that allows you to flash the Stock Firmware on devices powered by Qualcomm Chipset.
Here on this page, we have shared the latest version of the tool and the previous versions.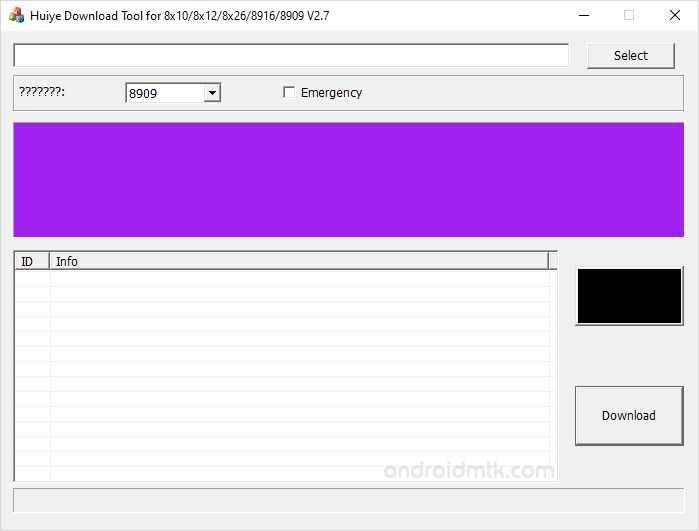 Features of Huiye Download Tool
Portable Application:
The tool comes as a portable application, which doesn't require you to install it on the computer to use it. The tool's overall interface is immaculate and comes with only two buttons, i.e., Select to select the firmware and Download to Flash the flashing process.
Support:
The tool helps you flash the stock firmware (ROM) or Flash File (XML based) on the Qualcomm Chipset Powered smartphones and tablets. The tool's latest version supports multiple Qualcomm chipsets, including 8909, 8916, 8932, 8952, 8×10, 8×12, 8×26.
Flashing Mode:
The Tool helps you flash the stock firmware in multiple modes, including Normal and QDLoader mode. QDLoader mode is also known as Emergency mode, which can be selected using the Emergency Checkbox.
Other Features:
The Earlier version of the tool, i.e., v1.0 and v2.2, helps you manually Add the raw program file, patch file, and mbn file with Emergency Checkbox. Settings can be locked and unlocked using the Unlock button.
Notes
[*] How to Use: If you want to learn to use the tool to flash the firmware, then head over to How to use Huiye Download Tool page.
[*] Alternative Tool: We have shared a bunch of tools that also allow you to flash or install stock firmware on Qualcomm Devices. You can check them all from our Qualcomm Tool section.
[*] Qualcomm USB Driver: If you are looking for the original Qualcomm USB Driver, then head over to the Qualcomm USB Driver page.
[*] Credits: Huiye Download Tool was officially created by Qualcomm Mobility, LLC. So Full credit goes to him for providing the application for free.