eMMC DL Tool is a small application for Windows Computer that allows you to Flash or Install the Stock Firmware on Qualcomm Devices (including smartphones and tablets).
Here on this page, we have shared the eMMC Download Tool that works on Windows XP, Windows Vista, Windows 7, Windows 8, 8.1, and Windows 10.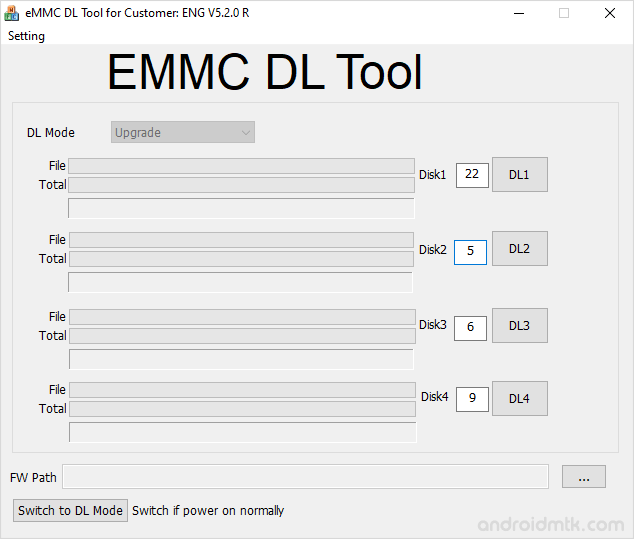 Features of eMMC DL Tool
Flash Firmware:
It allows you to flash or install the stock firmware on the devices running on Qualcomm Chipset. First, launch the Tool and Load the Firmware Folder, then choose the Port (where your device is attached to the computer) and Click on the DL Button to Start the Flashing Process.
Switch to DL Mode:
It allows you to choose between multiple modes of connection to connect the device to the computer. For example, if your device is Dead or is usually working, this feature will allow you to choose between them.
Setting Port:
It allows you to set up the Port Number (where your device is attached to the computer). So, for example, if you know the exact port ID on your computer where you have connected the device, then you can setup it using this feature.
Download eMMC DL Tool
If you wish to download the Tool, then use any of the following link to download it on your computer. We recommend you to download the latest version for stability:
V4.4.1R: eMMC_DL_Tool_For_Customer_ENG_v4.4.1R.zip
Notes
[*] Works for Qualcomm Chipset Only: The Above tool only works to flash stock firmware on devices having Qualcomm Chipsets. It will not work for any other Chipsets.
[*] How to Use: If you want to learn to use the tool to flash or install firmware on any Qualcomm devices, then head over to How to use eMMC DL Tool page.
[*] Caution: Flashing or installing firmware (ROM) using the tool will wipe the data from the device. Therefore, we recommend you backup your important data from the device before using the tool.
[*] Alternative Tool: We have also shared a list of tools that allows you to Flash or install Firmware on Qualcomm Devices. You can check them all from our Qualcomm Tool Section.
[*] Credits: eMMC DL Tool is created and distributed by Foneric, Inc. So, Full credit goes to them for sharing the application for free.