UniSoc AudioTester is a free software primarily used for Audio testing on the UniSoc/Spreadtrum Devices. The Tool comes with multiple features to test the Audio and increases the speaker and microphone volume.
Here on this page, we will talk about the Tool, its features and the link to download it.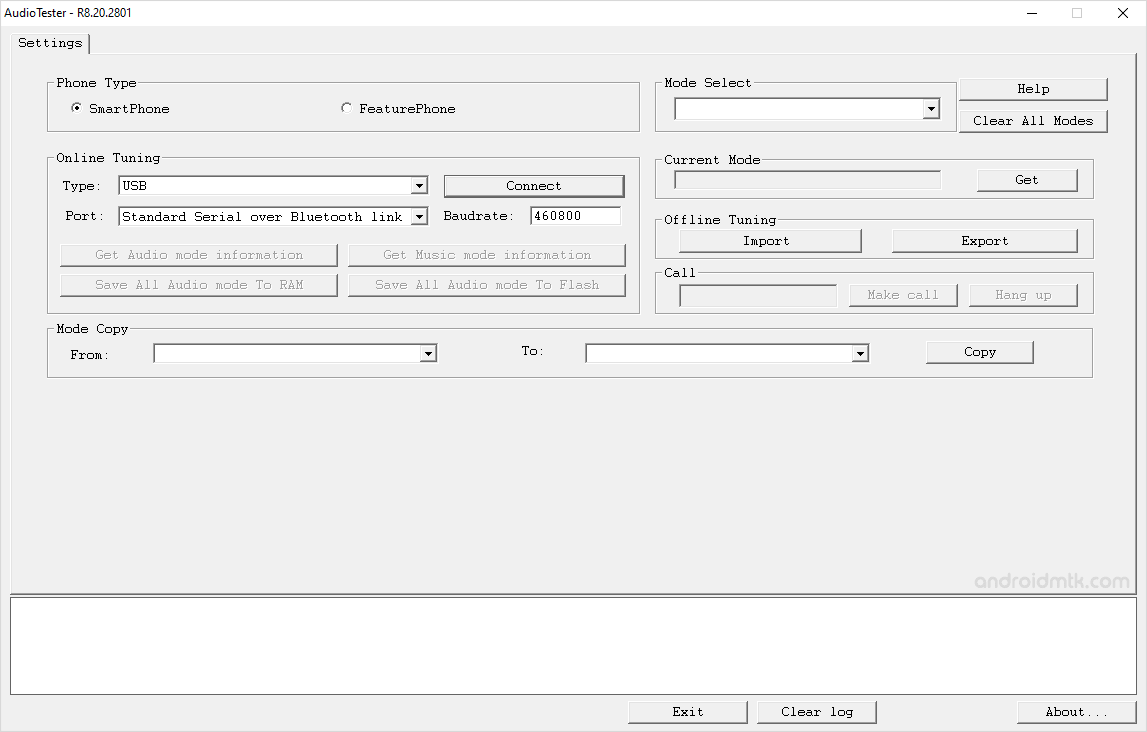 Features of UniSoc AudioTester Tool
Supports:
It comes in support of both the UniSoc Smartphones and FeaturePhone. You can connect both the devices to the computer through the USB cable or the Channel Server. In addition, it supports various UniSoc/Spreadtrum chipsets, including SharkL2, SharkLE, SharkL3, SC7731E, Pike, NemoG, UDS710, UMS510X.
Modes:
It comes with multiple modes, i.e. Audio Mode (NB Mode, WB Mode, TD Mode, VOIP Mode, BT Mode) and Music Mode (Playback, Record, FM Tuning). The Audio mode allows you to test and tune up the Mic Volume of the UniSoc/Spreadtrum Device, whereas the Music Mode allows you to test/tune-up the device speaker volume.
Audio Tuning:
It comes with multiple tuning options to tune up the Voice Calls (includes calls in various network modes and VOIP, Loopback, and other scenarios). The Tuning options are CP DSP (responsible for the encoding/decoding of the vocoder, the SRC module, and the Audio Process module), ARM, CVS, NXP, Volume Base Charging (VBC), Codec, Bluetooth.
Music Tuning:
It allows you to tune up the Music Play, Voice Recording, FM on the device. It comes with multiple tuning options, including Music Play (Playback Block), Volume Base Charging (VBC), Equalization, Automatic Level Control (ALC), Inner-PA, Codec (analogue and DAC gain), FM and FM Record tuning.
Download UniSoc AudioTester Tool
UniSoc AudioTester Tool is compatible with all version of Windows OS, including Windows XP to Windows 11 (x32 or x64 bit). If in case you were looking for the latest version of the UniSoc AudioTester, then use the following links to get it on your computer:
R8.20.2801: AudioTester_R8.20.2801.zip – Latest
Notes
[*] Device Not Detected? In order to get the UniSoc/Spreadtrum devices detected by the computer, you must install the SPD Drivers. Post installing the drivers, restart the computer and the UniSoc/Spreadtrum device and connect it using the USB cable.
[*] SPD USB Driver: If you are looking for the original SPD USB Driver, then head over to the SPD Driver page.
[*] SPD Flash Tool: If you are looking for the official SPD/UniSoc Flash Tool to Flash/Install Stock Firmware, then head over to SPD Flash Tool page.
[*] Credits: UniSoc AudioTester Tool is created and distributed by UniSoc Communications, Inc. So, full credit goes to them for sharing the Application for free.