Quectel QFlash Tool is a windows application that allows users to flash or install stock firmware (flash file) on devices powered by Quectel modules.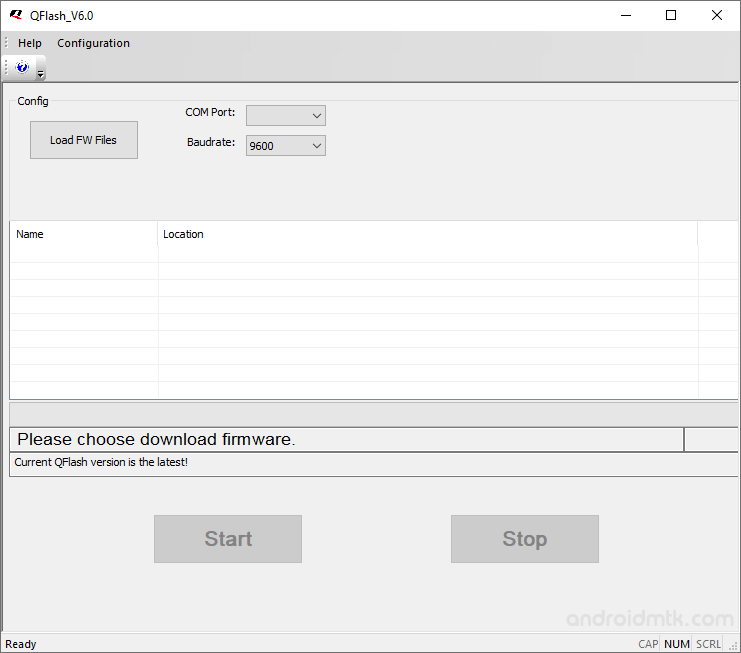 Features of Quectel QFlash Tool
QFlash Tool is a powerful utility that can help users flash or install firmware on Quectel devices, making it an ideal tool for this purpose due to its numerous features.
Install Firmware
QFlash enables users to install firmware (flash file) on Quectel devices. Upgrading the firmware involves setting the serial port and baud rate, loading the firmware files, and then upgrading the firmware.
Supports various modules
QFlash supports a wide range of module series, including LPWA (BCxx and BGxx), LTE Standard (EC2x, EG9x, EG2x-G and EM05), LTE-A (Ex06 and Ex12), Automotive (AGxx), Smart (SCxx and SGxx), WCDMA, GSM/GPRS/GNSS, 5G, Wi-Fi & Bluetooth.
MBN Function
QFlash enables the MBN upgrade function for the BG96 module. To install the firmware, users must verify that the selected package contains an MBN file, which is necessary for a successful upgrade.
Supports Multiple Extensions
Users can click the "Load FW Files" button to load firmware files and select the appropriate file type, such as .bin, .txt, .cfg, .mbn, .lod, .fls, .fwpkg, .pac, .zip, .bat, .elf, .alt, .mimgx, .xml, or .py.
Download Quectel QFlash Tool
Following are the Quectel QFlash Tool Download links from which you can download the Tool for Windows.
Notes
[*] How to Use: If you want to learn to use the tool to flash the stock firmware (ROM), then head over to How to use Quectel QFlash Tool page.
[*] If the Firehose folder exists in the firmware package, the firmware will be upgraded to Firehose mode by default. To upgrade to Sahara mode, select "Sahara only" under "Configuration" in the menu bar. The upgrade will be processed in Sahara mode if there is no Firehose folder in the firmware package.
[*] USB Driver: If you are looking for the original Quectel USB Driver, then head over to the Quectel Driver page.
[*] Credits: QFlash Tool is created and distributed by Quectel Wireless Solutions Co., Ltd. So, full credit goes to them for sharing the Application for free.