Fastboot Enhance Tool is a user-friendly fastboot toolbox and payload dumper for Windows. It allows users to perform the same actions as the command-line tool but with a more user-friendly interface.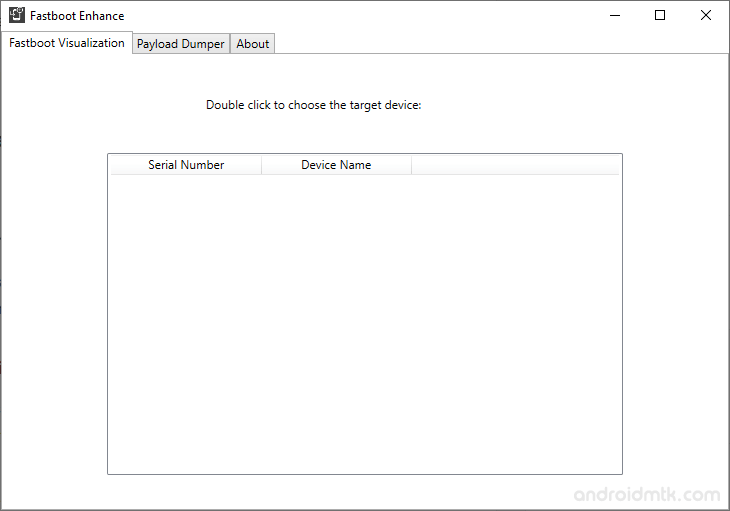 Fastboot Enhance Tool Features
Fastboot Enhance Tool is a powerful utility that can assist with using the fastboot tool and dumping payloads. It has several features that make it an ideal tool for extracting data from Android partitions using the payload dumper feature.
Showing fastboot variables
Users can use this tool to quickly check the current values of various fastboot variables, such as serial number, product name and partition structure. This makes it easy for users to view these details without entering commands or manually searching through menus.
Switching between different modes
The "Reboot to Bootloader" button at the bottom of the tool enables users to transition between fastbootd and bootloader mode on their devices, granting them access to firmware updates, recovery mode, and other advanced features.
Switching between A/B slots
Some devices feature A/B partitioning, allowing users to switch between the A and B slots easily. This is done by pressing the "Activate Slot" button, allowing smooth updates without interruption.
Flashing images
By pressing the "Flash" button, users can quickly and easily flash various images, such as system, boot, and recovery, to their device using fastboot. Users can also use the "Flash" button to install the payload.bin in fastbootd mode.
Erasing partitions
The "Delete" button located within the "Fastboot Visualization Menu > Partitions" enables users to erase certain partitions, such as system, cache, and data partitions on the device.
Delete, create and Resize logical partitions
Users can use this feature to efficiently manage their device's storage and partition structure. They can gain more control over how the space is allocated by quickly deleting, creating, and resizing logical partitions.
Unpacking and extracting images from Payload.bin
It allows users to unpack and extract specific images from the Payload.bin file. This feature can be accessed using the "Extract Image" button inside the "Payload Dumper > Partitions" menu. With this tool, users can extract specific images without unpacking the entire Payload.bin file.
Showing Payload variables
It allows users to view the current values of various Payload variables, including the device's serial number, product name, and current partition layout. This is useful for developers and advanced users to troubleshoot and understand the device's current state.
Showing dynamic partition metadata
Users can use this feature to inspect metadata of dynamic partitions on a device, including partition size, name, and type. In addition, it helps to verify the partition layout and confirm enough space for desired partitions.
Download Fastboot Enhance Tool
Following are the Fastboot Enhance Tool Download links from which you can download the Tool for Windows.
Notes
[*] NET Framework: It is important to ensure that the computer has the .NET Framework 4.5 or later installed before using the tool.
[*] How to Use: First, Unlock the device's bootloader, then turn on the USB debugging from the Developer Options. Next, connect your device to the computer and launch the Fastboot Enhance Tool.
[*] USB Driver: Make sure to install the latest Android USB Driver on the computer before using the tool.
[*] Credits: Fastboot Enhance Tool is created and distributed by libxzr (Developer). So, full credit goes to him for sharing the Tool for free.