MobileUncle Tools is a small Android app that allows you to get the Device info, Backup IMEI on MTK devices, Search or flash recovery, and quickly reboot the device to the recovery mode.
Here on this page, we have shared the latest version of the MobileUncle Tools and the previous versions.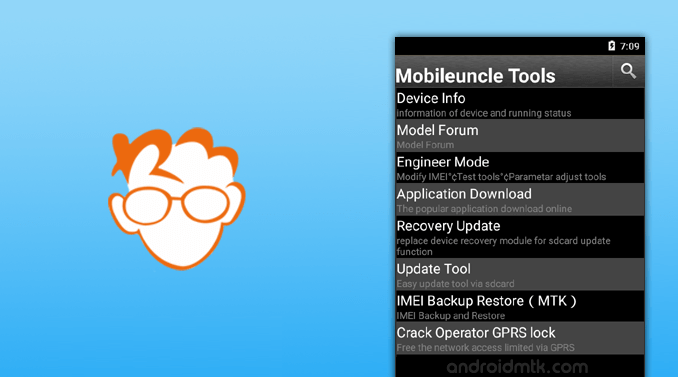 Features of MobileUncle Tools
Displays Device Info
It allows you to get the maximum information about your device, including CPU Info, Kernal Info, IMEI Info, OS Info, Screen Info, MTD, Mount Status, RAM, ROM Memory, SD Memory and Built Info.
Engineer Mode
Using this feature, you can Modify the IMEI, Test Tools, and Adjust the Parameter on the Mediatek Devices.
Recovery Update
It allows you to update the current recovery to the latest one. With this tool's help, you can flash recovery from the device or search for the recovery file on the internet.
Update Tool
You can flash the stock firmware (OTA) on the device using the tool. Then, load the firmware on the SD memory and Open the MobileUncle Update Tool feature to update the device quickly.
IMEI Backup and Restore on MTK Devices
Using this feature, you can easily backup the existing IMEI, whether Single or Dual SIM and restore it later (only for Mediatek Devices).
Power GPS Search
If you think GPS is not working correctly on your device, then using this feature, you can quickly fix it in no time.
App to SD
It allows you to transfer the pre-installed apps to the SD card memory (depending on the device), as many devices don't enable or allow to move apps.
Reboot into Recovery Mode
Using this feature, you can quickly reboot your android device into recovery mode without pressing any physical buttons.
Notes
[*] Flashing the wrong recovery using the Mobile Uncle Tool will cause a bootloop on the device. To avoid getting bootloop, always flash the correct recovery file.
[*] Caution: Flashing or writing IMEI other than the original is Illegal and may cause serious trouble to you.
[*] MobileUncle is Now Discontinued? Not literally! MobileUncle is now known as ToolHero. On the ToolHero App, you will get a better user interface and more features, including Batch Uninstalling, Junk Cleanup, 2D Code Scanning, Memory Acceleration, and Auto Start Management.
[*] Credits: MobileUncle Tools is created and distributed by NJava (developer). So, full credit goes to the developer for sharing this app for free.