ioRoot Tool is a One-Click Root Application for Windows Computer that allows you to root the LG smartphones, including the LG G2 and G3 devices.
Here on this page, we have shared the latest version of the ioRoot Application and the previous versions.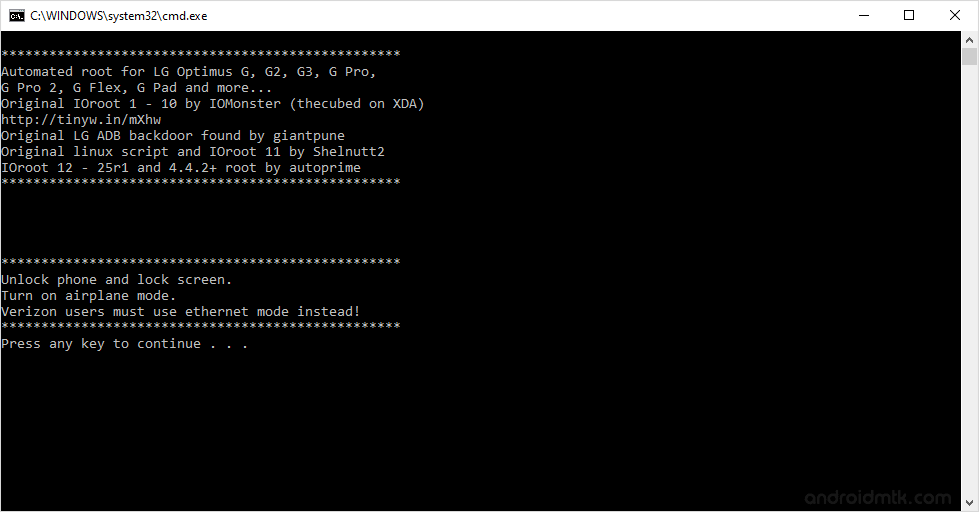 Features of ioRoot Tool
Portable Application:
It comes as a portable application, so you don't have to install the computer application to use it. Instead, download and extract the Application on the computer and open the root.bat file to Launch the tool.
One-Click Root
It allows you to root the LG devices with a Single-Click. First, install the LG Drivers on the computer > Enable USB debugging on the device > Connect the device to the computer > Launch the root.bat file from the ioRoot tool and follow the screen instructions.
Root LG Devices
With the help of ioRoot, you can root various LG devices, including LG Optimus G, LG G2, LG G3 (running on 4.4.2), LG G Flex (running on 4.2.2), LG G Pro (running on 4.4.2), LG G Pro 2 (running on 4.4.2) and LG G Pad 8.3 devices.
Manual Root
It allows you to root the Android devices manually. For that, you need to launch the terminal and enter the commands manually to gain root access.
Notes
[*] Works for LG Devices: ioRoot is designed to root only LG devices. It may not work for other devices apart from LG.
[*] ioRoot is Discontinued: ioRoot is now officially discontinued by the developer, which means it won't be getting any further updates in the future.
[*] Known FaQ: ioRoot was initially developed as a Windows Script to root LG G2 smartphones running on Android 4.2.2 but later got support to root devices from Android 4.0 to 4.4.2.
[*] Alternative Application: If you are looking for an alternative Root Application, then don't forget to check out our One-Click Root Application Section.
[*] Credits: ioRoot is made by various developers. Version 2 to Version 10 is developed by IOMonster (XDA Developer), Version 11 is developed by Shelnutt2 (XDA Developer), and Version 22, and 25 are developed by Autoprime (XDA Developer).