APK Easy Tool is a lightweight Windows application that allows you to Compile, Decompile, Sign, Zip Align, Check Alignment, Extract APK, Zip APK, and install APK files.
Here on this page, we have shared the latest version of APK Easy Tool and the previous versions.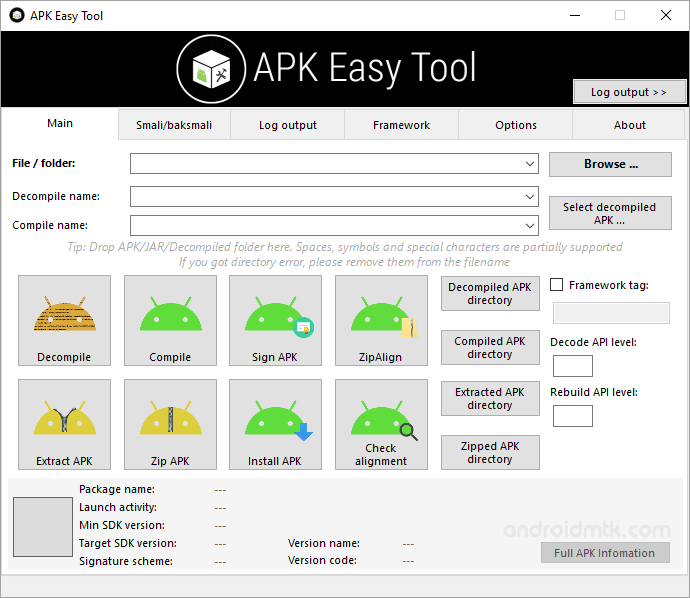 Features of APK Easy Tool
Portable & Installer Application
It comes in two variants, i.e., Portable and Installer. Download and extract the preferred version on the computer and open the apkeasytool.exe to launch the tool. Once the tool is launched, you can manage, sign, compile and decompile the APK files.
Compile & Decompile
It allows you to compile and decompile the APK, Dex, and JAR Files, with Space, Symbols, and German, Danish, Swedish, etc. characters support. In addition, you can cancel the compile and decompile process during the operation.
Sign & Zipalign
It allows you to Sign and Zipalign the APK files post modifications. Then, you can deploy the signed APK File on the Google Play Store. It also allows you to cancel the Sign & Zipalign process during the operation.
Extract & Zip APK
It allows you to extract the contents of any APK file (whether it's an App/Game/Utility). Once you make changes to the APK File, it also allows you to zip it. You can cancel the Zipping/Unzipping process during the operation.
Download APK Easy Tool
Notes
[*] Java Runtime: It is required to have Java Runtime Environment (JRE) installed on the computer to use the tool. Without JRE, the APK Easy Tool will not work correctly.
[*] Where to Download the APK Files?: You can find or download the APK Files (App) through Google or directly from apkpure.com/apkmirror.com.
[*] ADB Driver Installer: If you want to install the Google ADB Driver on the Windows Computer, then head over to Download 15 Seconds ADB installer page.
[*] Credits: APK Easy Tool is created and distributed by evildog1 (developer). So, full credit goes to him for sharing the tool for free.