Qualcomm Flash Image Loader (QFIL) is a small Windows application that allows you to flash or install Stock Firmware on devices powered by Qualcomm Chipset.
Here on this page, we have shared the latest version of the QFIL Tool and the previous versions.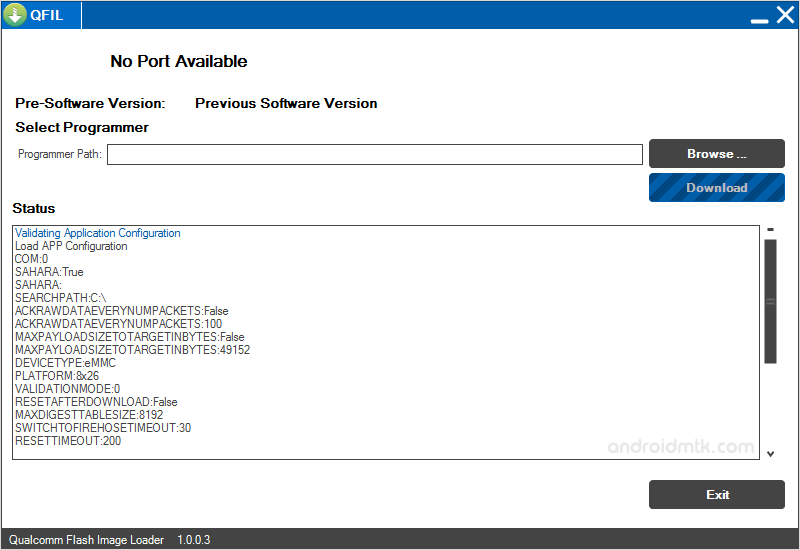 Features of Qualcomm Flash Image Loader (QFIL)
Portable Application:
QFIL comes as a portable application, so you don't have to install it on your computer to use it. Instead, download and extract the tool on your computer and open QFIL.exe to launch the Application.
Flash Firmware:
It helps you to install or flash stock firmware on Qualcomm Devices. All you need to have the correct firmware of your Qualcomm Device > Install the Qualcomm Driver on the Computer > Launch the QFIL Tool > Click on Select Port > Connect the Device using the USB Cable > Under Built Type, Select Flat Built > Click on Browse Button > Locate the .mbn or .elf based firmware > Click on Load XML to Begin the Flashing (read guidelines).
Support Qualcomm Chipset:
It comes in support of devices running on Qualcomm Chipset. Once you have installed the Qualcomm Drivers compatible with the QFIL Tool on the computer, QFIL Tool can easily detect the connected device and get ready to flash the Firmware on the device.
Support .mbn or .elf Format:
It supports the flashing or installing of firehose .mbn or .elf based Stock Firmware on Qualcomm devices, including smartphones and Tablets. You can easily find the .mbn or .elf file in the Stock Firmware on your Qualcomm Device.
Notes
[*] How to Use: If you want to learn to use QFIL Tool to flash or install stock firmware on Qualcomm Devices, then head over to How to use QFIL Tool page.
[*] Caution: Flashing or installing Firmware using the Flash Tool will wipe the data from the device. Therefore, we recommend you backup your data before using the Flash Tool.
[*] Alternative Tool: We have also shared a list of tools that allows you to Flash or install Firmware on Qualcomm Devices. You can check them all from our Qualcomm Tool Section.
[*] Credits: Qualcomm Mobility LLC creates Qualcomm Flash Image Loader. So, full credit goes to them for sharing the Application for free.