LG Flash Tool is a small application for Windows Computers that helps you flash or install stock firmware on LG Smartphone, Tablet, and FeaturePhone.
Here on this page, we have shared the latest version of LG Flash Tool and the previous versions.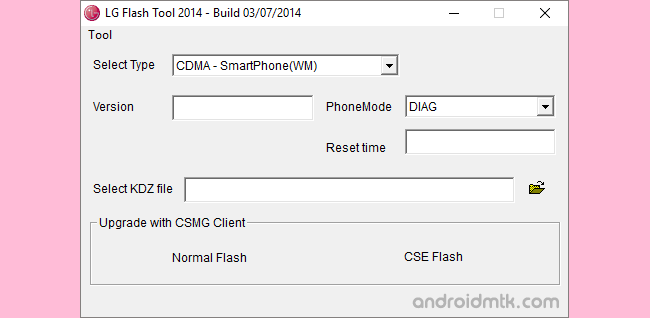 Features of LG Flash Tool
Portable:
It comes as a portable application that doesn't need to be installed on the computer to use it. Instead, you need to install the LG USB Driver on your computer, then connect your device to the computer and launch the Flash Tool and load the firmware and you are ready to flash it.
Flash Firmware:
It allows you to flash the .kdz, .cab stock firmware on your LG Smartphone, Tablet, and FeaturePhone. To flash the firmware, you need to have the correct stock firmware of your device and the LG USB Driver. It supports all the latest LG Mobile devices to the oldest.
Multiple Chip Support:
It allows you to flash the stock firmware on LG devices having different Chipsets, including CDMA, CDMA Smartphone (WM), ADI, 3GQCT, 3GQCT Smartphone (WM), TI, Infineon, EMP, ODM Smartphone, ODM Mediatek, Mediatek (IM, Bin).
Reading Information:
It allows you to read the complete information about your LG Mobile device, including Model Name, ESN/IMEI Number, Phone Software Version, Battery level, Phone Number, Chip Type, Smartphone Type, Android Version, LTE DL Mode check.
Download LG Flash Tool
The Flash Tool is compatible with Windows OS versions, including Windows XP to Windows 11 (x32 or x64 bit). If in case you were searching for the latest version of the Flash Tool, then you can use the following links to download it on your computer:
v20140627: LG_Flash_Tool_2014_0627.zip
v20140703: LG_Flash_Tool_2014_0703.zip
Notes
[*] Compatibility: It is compatible with Windows XP, Windows Vista, Windows 7, Windows 8, Windows 8.1 and Windows 10 (x32 or x64 bit).
[*] How to Use: If you want to learn to use the tool to flash the stock firmware, then head over to How to use LG Flash Tool page.
[*] LG USB Driver: If you are looking for the Original LG USB Driver, then head over to the LG USB Driver for Windows or LG USB Driver for Mac page.
[*] Credits: The Application was created and distributed by LG Vietnam Community. So, full credit goes to them for sharing the Application for free.