Android AIO Driver is a small application for Windows Computer that allows you to install the Android Drivers on the Computer. It contains various drivers, including Android ADB Driver, SPD Driver, Mediatek Driver, and Samsung Driver.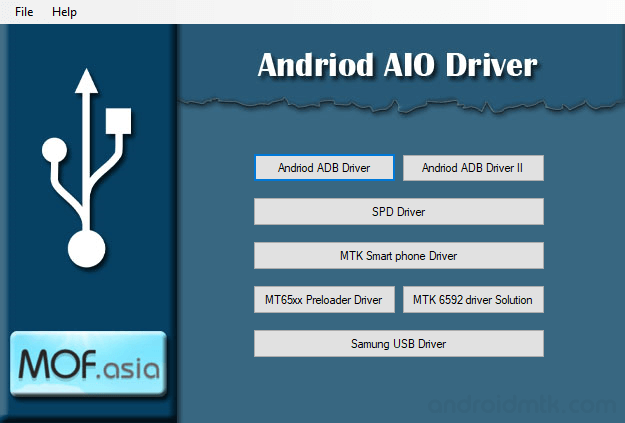 Features of Android AIO Driver
Android ADB Driver:
Android ADB Driver allows you to connect the Android Smartphone or Tablet to the Computer without installing any PC Suite application.
SPD Driver:
SPD Driver allows you to connect the Spreadtrum/Unisoc Devices to the Computer (SPD Drivers can be helpful if you are trying to flash or install the stock firmware or Writing the IMEI on the Spreadtrum/Unisoc Devices).
MTK Driver:
MTK Driver allows you to connect the Mediatek Devices to the Computer, including MT65XX, MT6592, etc. You may require this while flashing the stock firmware and Writing the IMEI on your MediaTek Devices.
MTK Preloader Driver:
It comes with the MTK preloader drivers, including Android CDC and VCOM Drivers (both support flashing stock firmware on dead/power off devices).
Samsung Driver:
It allows you to connect the Samsung Smartphone and Tablets to the computer without the need of installing Samsung Kies or Samsung Smart Switch Application on the Computer.
Download Android AIO Driver
Android AIO Driver is compatible with all versions of Windows OS, including Windows XP to Windows 11 (x32 or x64 bit). If in case you were looking for the latest version of the AIO Driver, then use the following links to get it on your computer:
v1.0: Android_AIO_Driver.zip
Notes
[*] Installer: Android AIO is an installer package, which means you have to install it on the Computer to use it. Once installation is completed, you can connect your Mobile device to the Computer.
[*] 15 Seconds ADB Installer: If you are looking for the Best ADB Installer, then head over to Download 15 Seconds ADB Installer page.
[*] Alternative: 15 Seconds ADB Installer, Universal ADB Driver, MTK Driver Auto Installer, RockChip Driver Assistant are the best alternative driver packages.
[*] Credits: Android AIO Driver is created and distributed by Mof.asia. So, full credit goes to them for sharing the driver package for free.